I just wanted to quickly share my excitement about a device I purchased some time ago – the TS100 mini soldering iron.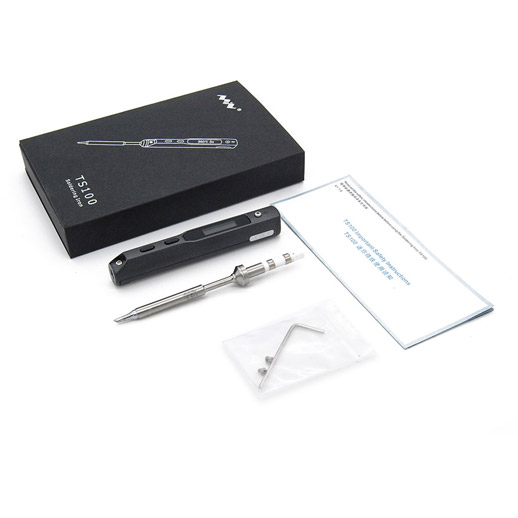 The TS100 is a really tiny soldering iron, and light weight. With the tip assembled it is overall about 17cm long and weighs just a little over 30gr. The manufacturer also offers a range of replaceable tips for it. The power supply is not included in the package and can be a DC input ranging from 12V-DC to 24V-DC which translates into 17W at 12V up to 65W at 24V – quite massive for such a tiny device. DC input is done with a 5mm DC525 barrel type connector, quite common for many laptops and similar computer devices, i.e. it is likely you own such a power supply already. I use one @19V from an old laptop. The temperature can be set via two buttons and a small OLED display on the top or the device, from 100C up to 400C. The heat up time is super fast, from room temperature to about 300C at the 19V-DC I use it takes about 15 seconds. This is way faster than my 300EUR Weller station. The current temperature and state (heating / stand-by) is displayed all the time on the OLED. The plastic grip part only gets hand warm during operation and due to the comparably short tip it is pretty comfortable to work with. You can get a TS100 set including one tip usually for about 50EUR from sources like eBay or Alibaba.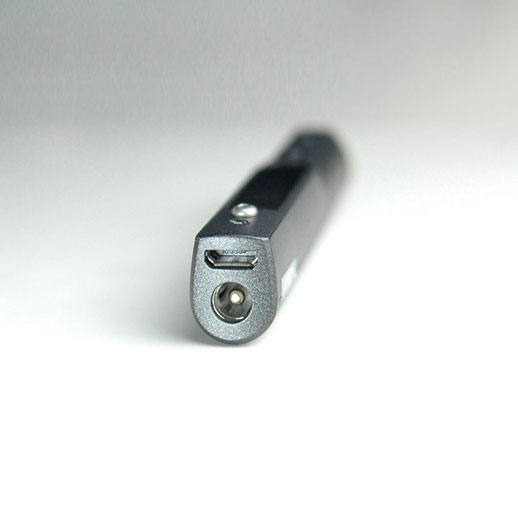 But the coolest part of the TS100 is that its firmware is available as open source. Next to the DC-in barrel connector is a micro USB connector to program the firmware. There are a couple of alternate firmware projects available on GitHub and on GitLab.
Personally I love small and portable tools and the TS100 totally fits my bill – for the price it is hard to find anything better at all.